Welcome To Our Website
TO LIVE HEALTHY, EAT FRESH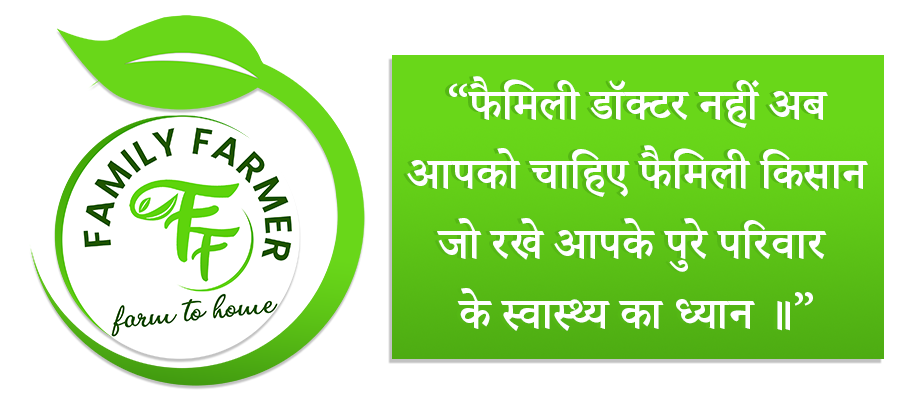 Welcome to Family Farmer where we believe that if you eat fresh and organic, you would hardly need a family doctor. If given two choices between living healthy or living on medicines, what would you choose? Of course the first one. Unfortunately, due to hazardous but high productivity practice in the name of "modern" farming, we are getting more chronic diseases than ever before. The chemicals from Fertilisers & Pesticides are reaching to your plate, and slowly to your body. Have you ever wondered why our forefathers were so healthy and energetic? They used to eat fresh & organic food, free from any kind of chemicals. Family Farmer is our little try to bring that Organic Farming revolution again in India. We have the support of our local farmers who believe in the same idea. Download Family Farmer App from play store and order fruits and veggies from the farm directly to your home within 24 Hours. 100% Organicness & Freshness Guaranteed.
Our Philosophy
You Won't Need A Family Doctor If You Order Organic & Fresh Food From Family Farmer." The philosophy of starting Family Farmer was to make a difference in the lives of people living in cities as well as farmers. It is a well-known fact that poison is slowly reaching our bodies through Pesticides & Fertilizers in our food. Most people don't have access to fresh and organic fruits & vegetables and farmers on the other hand, who were into Organic Farming, were not able to sell their organic victuals. We decided to intervene and bridge that gap. Family Farmer makes it possible for a person living in the city to have access to the freshest fruits and veggies from Farm within 24 Hours. You need to go to our App, select your groceries, and place your order for the basket. You will get your order in a single day. We are ready to spend millions on the after-effects of diseases caused due to chemicals, but not on Organic food directly from the farm? Strange, but we all can prevent them collectively by consuming local and organic food.
About Us
Family Farmer, a patrimonial venture holds by holds by Jaswant singh S/O Ved Parakash V.P.O Kolekhan Distt Kaithal Haryana had keen interest in Agriculture. He adopted this agriculture business as a Supervisor in 2012.

This self-sufficient farm was started as a concept that works in harmony with nature, rather than against it. It involves using techniques to achieve good crop yields without harming the natural environment or the people who live and work in it. The need of the day is to provide good healthy wheat and rice which are free of harmful toxins, and to have a process of farming that is ecologically sustainable and one that involves recycled and composted crop wastes and animal manures and crop rotation for increased fertility, and using natural pesticides and net house farming techniques for control of pests and diseases.
Read more
"The ultimate goal of farming
is not the growing of crops,
but the cultivation and perfection of human beings."
Explore Our Services